The Olympics is a global stage where the world's best compete and the rest of the world watch.
And one of Britain's rising stars in the 1500m, Jessica Judd, desperately wants to be a part of it.
Qualifying will be tough for the 21-year-old from Essex, but nobody should rule out this gritty Sky Academy Sports Scholar who's been battling through the cross country mud this winter to build up her endurance.
Here are Jessica's thoughts on her plans and preparation....
---
1. WITH SIX MONTHS TO GO, SUM UP YOUR FEELINGS IN THREE WORDS.
Excited. Dedicated. Nervous.
2. WHO IS YOUR OLYMPIC HERO AND WHY?
British runner Lisa Dobriskey. She ran such strong races at the 2008 and 2012 Olympics, showing so much tactical awareness, and she took full advantage of the opportunity.
She just made qualifying for that final on both occasions look part of a process and effortless.
3. WHAT DOES THE OLYMPICS TRULY MEAN TO YOU?
It's the chance to show the world how hard you have been working in training and that you have nothing to lose.
It means so much as it's something everyone watches and it would be great to get there as I've absolutely loved the journey so far. It would be so rewarding to get there.
4. WHAT DO YOU THINK MAKES AN OLYMPIC CHAMPION?
The ability to focus purely on yourself, have a tactical awareness but know what you are capable of.
To take full advantage of the situation and leave nothing to chance.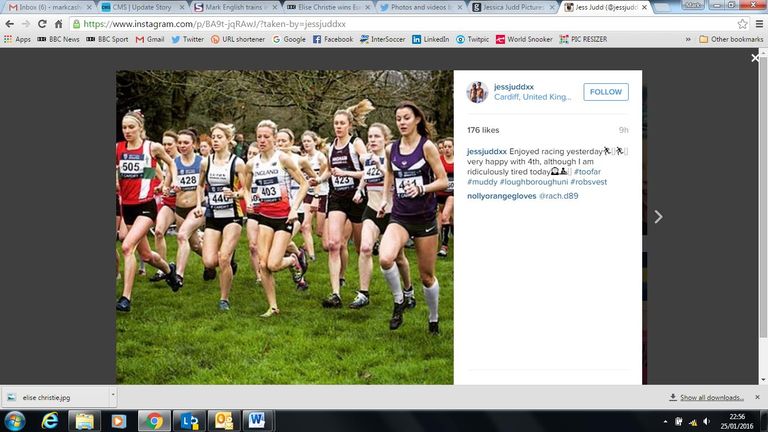 Jessica (far right) mixes it up in the cross country in Cardiff in January
5. WHAT ARE THE THREE MOST IMPORTANT ITEMS YOU WILL PACK FOR BRAZIL?
My pillow, a book and my spikes.
6. THERE ARE AROUND 268,000 MINUTES BEFORE RIO. WHAT ARE THE THREE MOST IMPORTANT THINGS FOR YOU IN THAT TIME?
Rest and recovery, making sure I eat the right things and training hard.
7. HOW DO YOU TRY TO STAY CALM WHEN THINKING ABOUT THE OLYMPICS?
I just normally listen to my family, coach and boyfriend telling me to relax and to just focus on what I can do and not think about anyone else.
I normally take confidence in the sessions I have done before the race.
---
WHAT'S COMING UP FOR OUR SCHOLARS...
JAN 16 - MARCH 5: Siobhan-Marie O'Connor, Australia
FEB 3-5: Jack Bateson, Bocskai tournament in Hungary
FEB 5: Rio Olympics - Six months to go
FEB 6-7: Elise Christie, World Cup in Dresden
FEB 13-19: Quillan Isidore, training camp in Zolder, Belgium
Source: www.skysports.com